Safe Cracker - The Locked Safe And Vault Opening Service
Talk To A Professional Safe Cracker / Safe Engineer
Call, Text or WhatsApp Dave On:
07850 046641
Email: info@safe-cracker.co.uk
One of the UK's only full time professional safecrackers
The Locked Safe Opening Service - Safe Cracker
Safecracker or Safe Cracker is a professional safe cracking / safe opening service. No matter what make or grade your locked safe is Safecracker will open it. All of the photo's on this site are of actual locked safes or vaults that Safe Cracker has opened.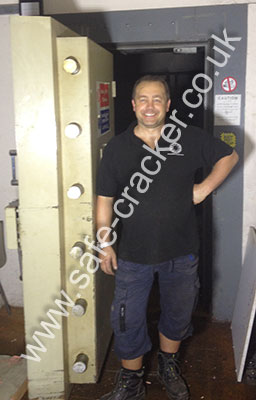 The most likely reason you are here is because you have typed in to a search engine something along the lines of:
Safe Crackers near me
Safe opening service near me
I have lost my safe keys
I have forgotten the combination for my safe
I am using the correct combination, but my safe will still not open
I need my locked safe opening ASAP
How do I open my locked safe
My safe is locked open
I was not using the combination lock, but now someone has spun the dial
I have found a locked safe, how do I get it opened
My keys no longer open my safe, what can I do
My digital safe lock no longer works
I can't get my safe open
I need a safe engineer
I need a safecracker
I need a Gas Safe Engineer (for this one you are on totally the wrong site!!)
The Professional Safe Opening Company - Safecracker
Safe Cracker is a company providing a specialist safe opening service. No matter what make or grade of safe you have, if it is locked shut, The Safecracker will open it!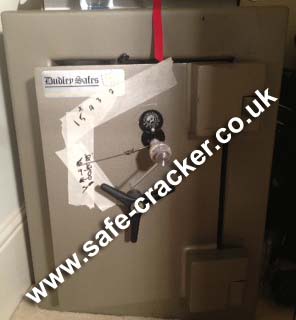 If you have lost your safe keys, forgotten the combination to your safe lock or even if your electronic combination safe lock has failed, one telephone call to Safe Cracker and I will open your locked safe for you.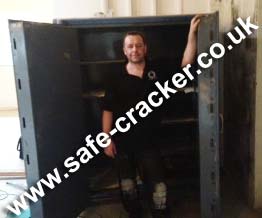 Professional Safe Opening Service
I provide a specialist safe opening and safe lock picking service. I am not a general locksmith service or access control engineer. Quite simply I am a professional safecracker!
Not only do I make a lot of my own safe cracking tools, I also invest heavily in the latest and most up to date safe opening tools including a safe auto dialler, lock specific picks like the LDT safe pick for the La Gard 2200 safe lock. Chubb LIPS, Mauer and STUV decoders, As well as scopes and other specialist safe opening tools.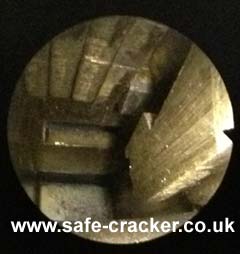 Contacting Safecracker
I am aware that this may be the first time that you will be contacting a professional safe engineer, and I want to make it as simple and jargon free as possible.
I do ask, that if possible you have a photograph of the front of the safe and a close up of the lock to hand which you can send to us. These can be images taken on just a mobile phone and can either be e-mailed or sent as a text to us on 07850 046641.
As a professional safecracker I do not need you to tell me the cash rating, grade, colour of safe or what lock is fitted, I will tell you that from experience, knowledge, the pictures you send and the simple Yes/No questions that I ask.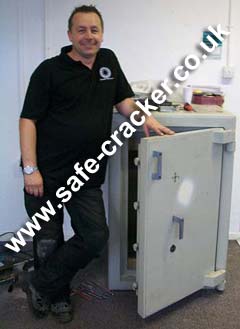 Safecrackers Fixed Price Guarantee
I know that people are always looking for the best deal, that is why I offer a fixed price structure. My price to open your safe is based on its grade and fault as described. Once the price has been agreed that is the price you will pay.
Warning - But A Locksmith Has Offered Me A Cheaper Price!!
If you just want cheap, then my best advice is that you accept it, but keep this number, 07850 046641 handy! A real example of what is likely to happen is shown below. The owner accepted the cheapest quote and two locksmiths spent a total of 5 hours over two days trying to use a core drill to open this Hamber under floor safe. After giving up they still tried to charge him £150 for the drill bits they had used! As you can see the safe was left unopened and unrepairable. If you want to see how I open Hamber under floor safes without any damage, Click Here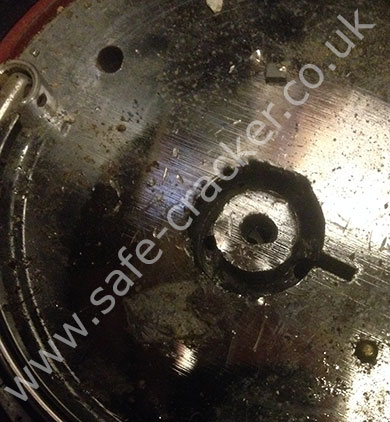 Remember safes have additional security features built in to them to deadlock the safe should an unsophisticated attempt be made to open it. A specialist safe engineer knows how to deal with and defeat these features.

To contact us by post please write to:
Safe Cracker Ltd
16 Thele Avenue
Stanstead Abbotts
Hertfordshire
SG12 8JB


m. 07850 046641
Safe Cracker Ltd has Public Liability Insurance with AXA for £5,000,000 Download Here

---

*Please note, that all credit card payments are subject to a 4% handling fee.
Chip and pin credit card payments can be made on site